It's a big week for me.
In just a few days' time, I fly out to perform in the USA, on a three week tour with a bunch of zydeco musicians!
We're talking about The Bayou Brothers, and here's how they describe themselves:
With a sound straight out of Louisiana's dance clubs, bayou festivals and backyard crawfish boils, the BAYOU BROTHERS will rock you right on into "Fat Tuesday" with their extensive experience and endless enthusiasm to deliver a rousing, rollicking, heart thumpin', foot stompin' musical gumbo y'all won't soon forget!!!
Start with a blend of accordion, keyboards, guitar, bass, drums and rubboard, add three-part harmonies, mix it up with a lot of rockin' Zydeco, blues, R&B and that great Mardi Gras sound, toss in dazzling showmanship and a big old dance floor and you get the hot, spicy musical jambalaya that IS the BAYOU BROTHERS!!!
It's a dream come true – and I'm so looking forward to working on the other side of The Atlantic. In fact, it's a life goal come true. Visualised. Manifested.

It's a busy fortnight alright. Last weekend I did a spirited and busy gig in my hometown venue of The Barrel House with my soul-brother saxman Andy 'Big Buzzard' Williamson and some musicians new to me: piano man Tom Unwin, drummer Ric Byer (who also plays guitar and sings in this prog outfit) and funky bassman Bob Martin (who told me he once did a gig with cape-wearing Rufus Thomas, pictured right. I am one degree away).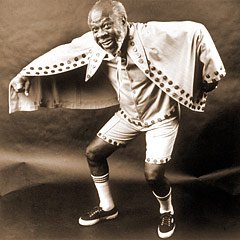 The following evening I was playing records at an exclusive private party and this weekend I'm with a trio at the delicious Millbrook Inn in South Pool (see the Google Calendar on my website for all my dates).

These are all warm-up shows to help me build up to this rigorous schedule of shows Stateside:
May 3 – 4:30-6pm Gillespie Field Café – a gig in an airport
May 3 – 7-10pm Summit University Fellowship Church
May 5 – 7:30-11:30am San Diego Zoo Half-Marathon at Wild Animal Safari Park in Escondido
May 8 – 7-11pm Tio Leo's in San Diego
May 9 – 3-4pm Scripps Mira Mesa Branch Library. Yes! A library!
May 10 – 6-8pm Concert on the Promenade in El Cajon
May 11 – time tbc Bayou Grove Stage, Gator by the Bay Festival (spoken word gig)
May 11 – 3-4:30pm Jazz 88 Stage, Gator by the Bay Festival
May 12 – 1-2:20pm Bourbon Street Stage, Gator by the Bay Festival
May 18 – 1-3pm Springfest in Allied Gardens
May 18 – 7:30-11pm Iva Lee's New Orleans restaurant

I'm going equipped with mini video cams, and I'll be reporting back via my Facebook page and my Twitter feed (follow me @MamaTokus).

Here goes somethin'!